The tendency to reduce the consumption of wheat flour is growing every day. More and more people decide to avoid flour for celiac disease, gluten intolerance or simply for a dietary decision.
But not eating flour doesn't mean giving up on pizza. You just have to have other options at hand that allow you to make delicious pizzas without the flour dough. There are very healthy bases that are prepared with oatmeal, spelled, carrots, zucchini, chicken, tuna.
They are nutritious pizzas with ingredients that make a good nutritional contribution, generally more than wheat flour.
chicken base
In a food processor, prepare a pasta with 250 g of chicken, 50 g of grated cheese, salt and spices. Spread out on a pizza pan covered with greaseproof paper. It should be Remove from the oven, remove and cover with tomato sauce. Add your favorite topping.
oatmeal
Work 500 g of oat flakes to form a flour. Add 1 tablespoon of yeast, a tablespoon of oil, salt, 1 cup of warm water. Form the dough. Let it rest for a few minutes and ready for cooking.
carrot base
Grate 3 medium carrots. Drain on a tea towel to remove all liquid. Add 1 minced garlic clove and 1 raw egg and mix. Spread on the pizza pan. Bake for 12 minutes in a strong oven. Remove, paint with the sauce and add the chosen ingredients.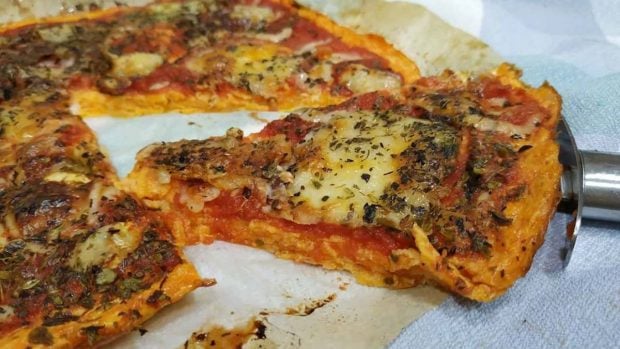 zucchini base
Grate two units of zucchini and drain in a colander, pressing so that the liquid comes out. Put it in a bowl and mix it with 2 eggs, salt to taste and 50 g of grated cheese. Arrange the dough on a mold lined with baking paper. Bake at 200 degrees for 15 minutes. Remove from the oven and cover with the topping ingredients and cook for another 10 minutes.
Tuna and egg whites base
Mix the contents of a can of tuna in water with two egg whites. Add spices to taste. Spread on a mold lined with parchment paper and bake in a hot oven for 10 minutes. Place the filling and bake for another 5 minutes.
spelled base
Spelled flour is wholemeal and has a high nutritional content. This dough is prepared in the same way as soft wheat flour. Spelled is a harder, drier type of flour, so it can take more water and cost more to stretch. Then proceed as for traditional pizza.
Did you think you could make pizzas with such a variety of bases? All of them are healthy and, moreover, low in calories. The ingredients you choose for the topping will give your personal touch. Easy, delicious and affordable, you should integrate them into your daily cooking.