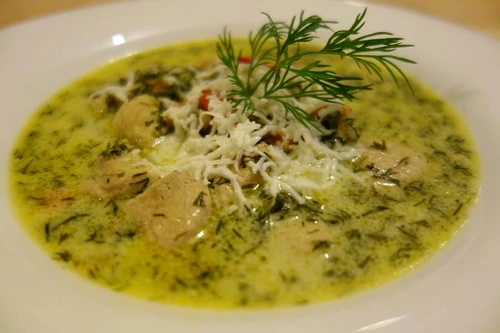 When serving, add some grated sheep curd PHOTO Facebook.com/Mircea Groza
A traditional recipe from the parts of Sălaj fills the houses with the aroma of country chicken, thyme and dill leaves.
For this weekend, Salaje gastronome Mircea Groza offers us a tasty and hearty dish, flavored with fresh dill.
The chicken dill soup recipe is as simple as it is delicious, for which we need bone broth, a boneless chicken leg, a boneless chicken breast, two carrots, two green onions, a green garlic clove, salt, fresh thyme, oil, white flour, cream, three egg yolks, plenty of green dill and a little sheep's curd.
First, peel two carrots, grate them, cut three green onions and a green garlic, then put them all in a pan with a little oil, let them dry over low heat.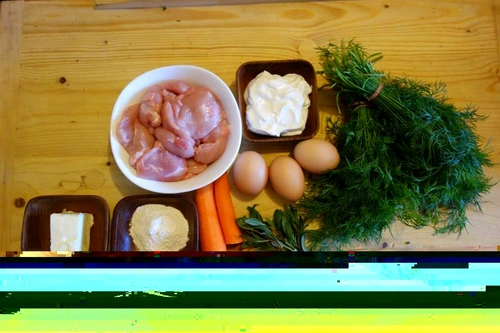 Chop the chicken, add it to the carrots and onions, stirring thoroughly, until lightly browned. Add salt and add the lukewarm bone broth, as well as a bunch of green thyme, then boil everything. Meanwhile, in another bowl, prepare a layer of oil (you can replace it with butter), a spoonful of flour and cold water, being careful not to burn the mixture. Add the chopped green dill, continuing to mix. Dilute the thickener with the boiling soup, then put the mixture in the saucepan. Mix three egg yolks with the cream, add a little of the lukewarm juice, then turn everything in the large pot, but only after removing it from the heat and leaving it aside for a few minutes.
Before serving this tasty dish, scrape over some of the fattest sheep curd.
Enjoy your meal!
We also recommend:
The wonderful flavors of grandma's time. The recipe for the tasty chicken topala with mushrooms
How to make tasty chicken Topal with gherkins. The original recipe in the sweet voice of Transylvania