The homemade vegetable noodle soup is super quick to prepare and is tasty and stuffed, perfect for lunch, served hot and without bread!
Here's what we need to prepare the Vegetable Soup with Homemade Tagliatelle Recipe:
---
To prepare the noodles:
1 egg
100 gr of flour
1 pinch of salt
For the soup:
3 liters of water
1 onion
1 carrot
1 parsley root
1 parsnip root
1 small dill root with 2-3 stems and leaves
1 bell pepper, green
1 bell pepper, red
2 well ripened tomatoes
2 tablespoons of poultry oil or fat
Salt and pepper to taste
1 bunch of green parsley
---
How to make homemade vegetable noodle soup recipe.
First prepare the homemade noodles, so that they have time to dry. They prepare a few hours before, or in the evening for the morning.
To prepare homemade noodles, mix the flour with the egg and a pinch of salt, obtaining a firm dough, which is left to rest, covered with cling film, for 30 minutes. Then, with the help of the pasta machine, make the noodles of the desired size. Spread the noodles on a well floured surface and let them dry. They can also be prepared without the special pasta machine: the dough is rolled out into a thin sheet on the floured surface and cut with a knife into long and thin strips.
To make homemade vegetable noodle soup, first fry a finely chopped onion in a little oil or chicken fat. It is not allowed to fry, only to slightly penetrate and release its sweet taste in the boiling oil.
Then add the peeled and finely chopped tomatoes, mix well with the onion and add the cleaned and chopped root vegetables. Top up with hot water, add whole celery stalks and finely chopped celery leaves, boil the soup until the vegetables are absorbed. The celery stalks will be removed after they release their flavor into the soup. They will give a slightly sour and aromatic flavor to the soup.
Towards the end of boiling, about the last 8-10 minutes, add the cleaned and diced peppers. They do not have to boil for a long time because they will lose their properties, they must remain slightly al dente. Also in the last 10 minutes, add the homemade noodles and season the soup with salt and pepper, to taste.
After turning off the heat, add the finely chopped green parsley and cover the pot with a lid to infuse the parsley and flavor the soup.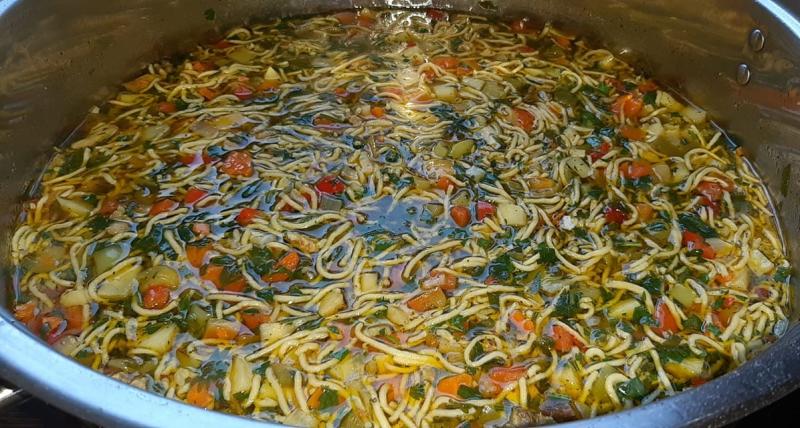 Green parsley is usually added during serving as well, for added freshness.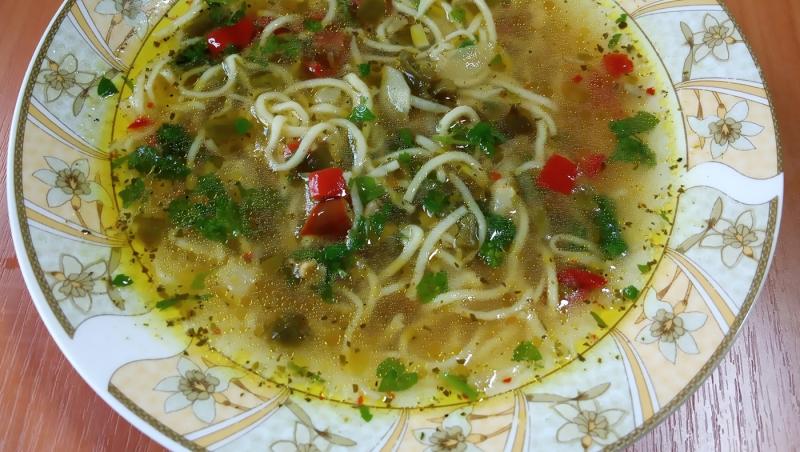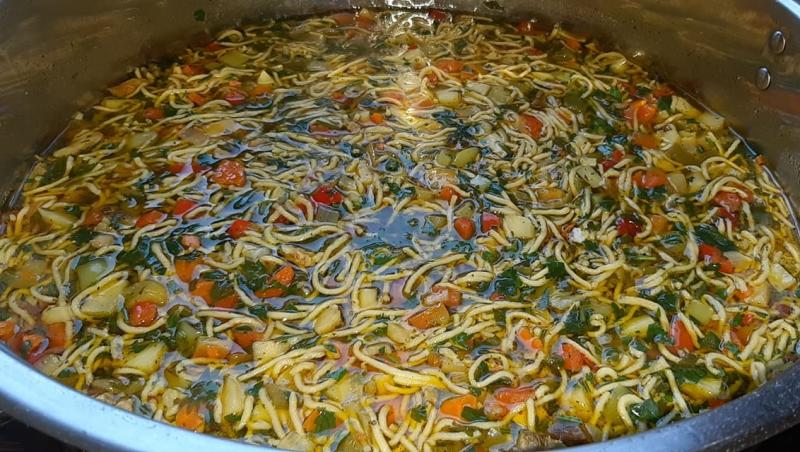 Hello and enjoy your meal!
How to prepare the traditional recipe Păstă de jumări, served as an appetizer in Transylvanian restaurants … How to make the tastiest and most aromatic donuts with apples and cinnamon? Quick and easy delicious dessert recipe.